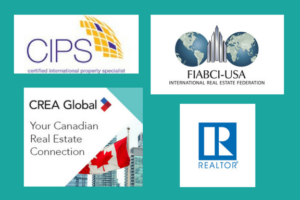 ---
TIME Realty Services is a boutique real estate brokerage located in Punta Gorda Florida. The brokerage specializes in global transactions and consulting services. With 22+ years of experience Broker Della Booth obtained her Certified International Property Specialist designation (CIPS) in 2011. Being an active member of the Canadian Real Estate Association(CREA), Asian Real Estate Association of America (AREAA), and FIABCI, The Federation of International Real Estate based in Paris; to ensure our connections to most countries in the world
TIME Realty extends beyond what a conventional brokerage firm offers. It envisions itself as both a lifestyle company committed to informing and connecting global communities, and as a creative agency offering design, marketing and sales solutions for buyers, sellers, and investors globally.
If you own real estate in another country or are looking to purchase or invest in another country give Della a call/text or WhatsApp at  +1 239-699-4493 or email. She is available to consult on vacation homes and investments in many countries.
---
Inbound to the United States – Let's review your goals and plans to position you and your company or business in the right environment to grow and prosper. We can assist you with banks, international accountants, and other professionals that you need to be successful.
Purchasing in other countries – Interested in homes, communities, or investments in Belize, Costa Rica, Panama, or Nicaragua? Get more information here    Are homes, and communities in Mexico more appealing? Get more information here
Have another country in mind? Let's talk! I have experienced contacts in many countries who can assist you.
Foreign National Loans – We have resources to share with our incoming buyers and investors.
Money Transfer – We have relationships in place to help save you when transferring funds. You can even lock in exchange rates. To create your personal account please reach out and I will assist you.
Immigration Attorneys – We have professional, honest immigration attorneys that can assist you in determining what type of visa is needed and help you accomplish that goal.
---
Take a tour of our city  – Sprechen auf Deutsch
Websites for more information: