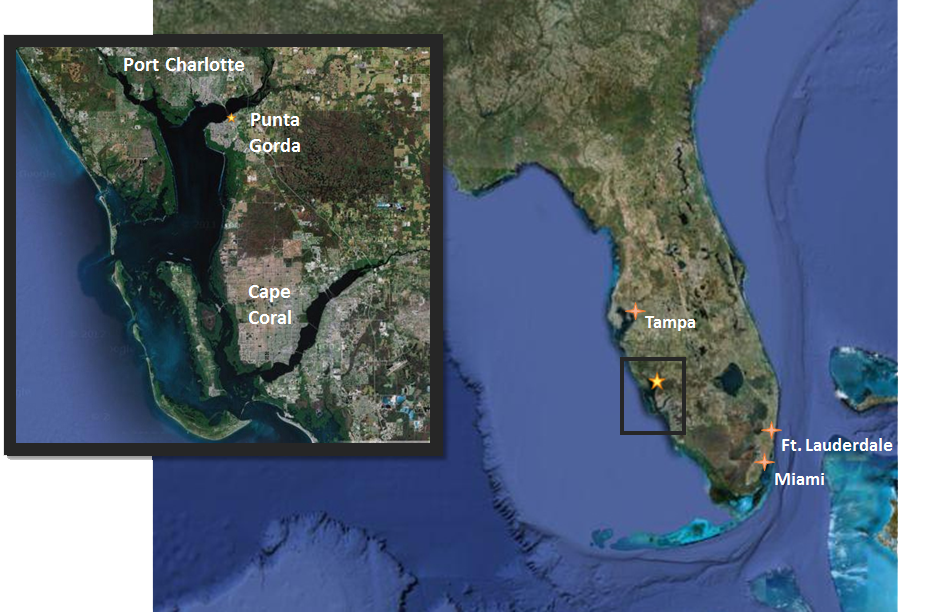 Charlotte County
Charlotte County was formed in 1921 with Punta Gorda named as the county seat. It was named for Queen Charlotte – Grandmother of Victoria and 4-great grandmother of the Queen Elizabeth II. Eight hundred and fifty nine square miles make up the county of which 169 square miles are water. Punta Gorda is the only incorporated city. Unincorporated Charlotte County is administered by the Board of County Commissioners. The Charlotte County shoreline is 830 miles long and 84% is preserved land. Often referred to as the Tarpon Capital of the world Charlotte Harbor and the Gulf Island offer world class fishing and boating. Charlotte County is home to a campus of Florida Southwestern State College and Western Michigan University.
Located in the middle of Southwest Florida's Gulf Coast Punta Gorda started in 1885 as Trabue a 30 acre home site. In 1887 it was incorporated as Punta Gorda. Touted as "A friendly community with a remarkable past and an exciting future."
The community features lush tropical parks and 15 miles of walking paths, water front homes, quaint downtown storefronts, and sidewalk restaurants for its residents. Almost all of Punta Gorda's inhabitants live in single-family homes or condominiums. I-75 and Hwy 41 is easily accessible. Boating and fishing are major draws to the area.  Yachting Magazine named Punta Gorda as one of the top 50 Best Yachting towns. And Sail Magazine listed Charlotte Harbor as one of the top ten places to sail in the United States. Numerous art galleries, Charlotte County Symphony and many authors call Punta Gorda home.
Named one of the "10 Best Places to Retire" in 2012. Also home to the Tampa Bay Ray's Spring training camp and their Class High-A affiliate the Charlotte Stone Crabs. Port Charlotte sits on the north end of the Charlotte Harbor Estuary. Most neighborhoods are not deed restricted; however there are a few gated communities. The majority of residences are single family and condominiums. As with most of the communities founded in the 1950's the bulk of the commercial area runs parallel to US 41 with the residential flowing outward.
Lee County
Lee County, created in 1887, was named for Robert E. Lee the Confederate general in the American Civil War. At 1,211 square miles, Lee county consists of four incorporated cities and one town: Fort Myers, Cape Coral, Fort Myers Beach, Sanibel and Bonita Springs. There are also many non-incorporated areas within the county.  Lee County is home to Florida Gulf Coast University, Barry University, Nova Southeastern University, Florida Southwestern State College, Hodges University, ITT Technical Institute, Keiser University, Southwest Florida College, and Rassmussen College.
Located in Lee County on the west bank of the Caloosahatchee River, Cape Coral is a peninsula.  The town was formed in 1957 with the purchase of 103 square miles by developers for $678,000. Today Cape Coral has 120 square miles of land and over 400 miles of both saltwater and fresh water canals. Housing is predominately single family with many condominium and multi-family structures. Cape Coral is part of the Lee County School District containing several zones within the city as well as multiple charter schools.
Fort Myers
Incorporated in 1886, Fort Myers was one of the first forts built on the banks of the Caloosahatchee River. It is approximately 120 miles (190 km) south of Tampa and 125 miles (201 km) west of Miami. Fort Myers is the spring training home of the Boston Red Sox, and the Minnesota Twins and home to the Everblades Hockey Team. It is also the location of Thomas Edison's winter home. Housing is a mix of single family homes and condos with both gated and traditional communities.